Training Courses Goole Yorkshire
We can provide the following courses:
DVSA Approved Test Centre Goole Yorkshire
We deliver the following categories of vocational test at our Goole, Yorkshire DVSA Driver Training  and Approved Driving Test Centre.
B+E Car and Trailer
Module 4 Initial CPC Training and test.
Driver CPC Training
Manual Handling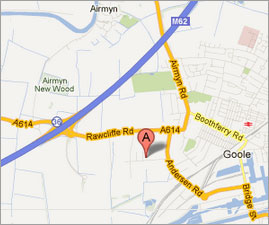 White Rose Park, Larsen Road, Goole, DN14 6XF
1st Class Solutions was set up to deliver Transport, Warehousing and Logistics Driver training and DVSA Vocational Driver Training and driving tests to businesses and individual customers primarily in the Yorkshire region but also nationwide.
With over 40 years of experience in the transport industry we feel well placed to deliver a quality, affordable service to the local area and nationwide.
Amongst our services we can deliver either a complete package or a course tailor-made to customer requirements whether it be personal development or corporate. All our staff and instructors have many years of experience within their industry sector.
DVSA Approved Test Centre Goole Yorkshire