Laura Colbeck recommends 1st Class Training Solutions.
Passed my B&E test today after completing the 3 day course as a complete novice, never coupled or pulled a trailer before. Paul made sure I understood the processes fully and answered all my questions (even the stupid ones!). would highly recommend 👍
Well done Laura all the best for the future….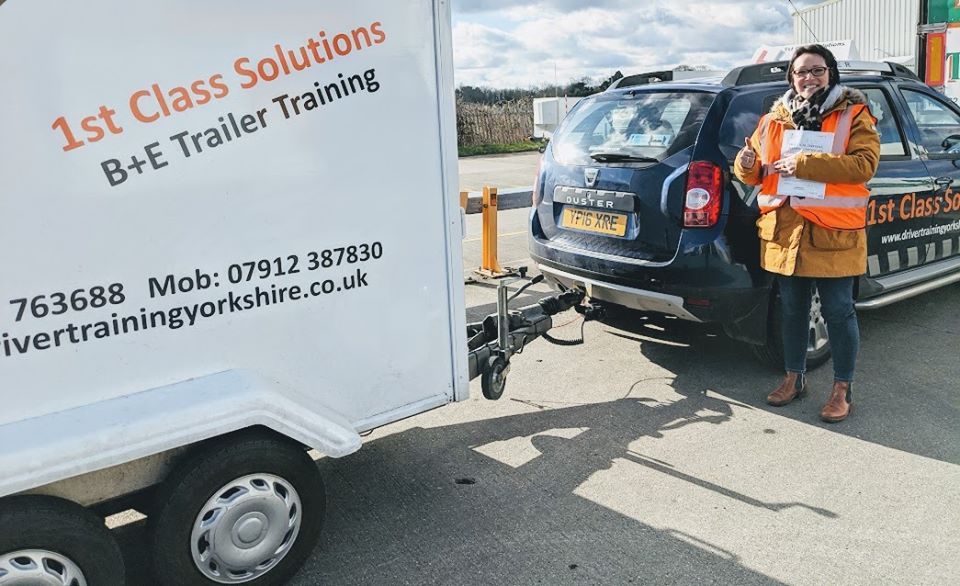 2 Day Part Experienced Person @ £445 and 3 Day Novice Course for someone with little or no previous experience @ £545
Plus 1 Day Courses now available at £295 per person – For very experienced towers and reversers of trailers etc only
Did you pass your car test after 1st January 1997 and want to tow a large,caravan, horsebox or trailer, then you will probably need to take you B+E Trailer Test
The prices above include hire of vehicle, trailer, instructor, DVSA Test fee of £115 and VAT
Please find below the next dates we have available for trailer training test courses
Monday 16th and Tuesday 17th for training and then Wednesday 18th March 2020 for training and test ( 1 places left )
or
Monday 23rd and Tuesday 24th for training and then Wednesday 25th March 2020 for training and test ( 3 places ONLY left )
or
Sunday 5th and Monday 6th for training and then Tuesday 7th April 2020 for training and test
or
Wednesday 8th for training and then Thursday 9th April 2020 for training and test ( 2 DAY PART EXPERIENCED COURSE ONLY AVAILABLE FOR THESE DATES )